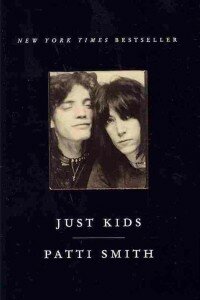 Patti Smith offers a self-portrait of the artist as a young woman, and the story of her famous friendship with Robert Mapplethorpe, with appealing simplicity and humility. It's always been what's vexed and excited people about her, I think–the contrast between the primal wildness and impiety of Smith's art and the sober, earnest, humble artist behind it. And then of course Mapplethorpe, whose work was so violently and willfully misunderstood and misrepresented that it may never recover and be seen for what it actually is.
Smith's prose style is almost naive in its simplicity; she reports on the mad rituals of the 70's downtown tribe without a trace of sensationalism. Not that the book's a dispassionate ethnography, though–there's not much reflection or analysis at all. It sounds more like Smith was a stranger in that strange land, just trying to survive and do her art. It mattered to Robert to see and be seen. To put it mildly. But not Smith; she was happy to have a job at a bookstore, a donut for breakfast, and paper to write or draw on.
If the book's account and tone are to be trusted, it seems pretty bizarre that these two kids managed to accomplish what they did. It helped, of course, that they had no student loans and monthly rent bills in the low three digits. These days, a jejune poète maudit wanna-be with no money, no degree, no connections, no safety net, and vague artistic goals would last about ten minutes in New York before she was forced to move back to Jersey. Five.
It's a lovely, sweet book, but weird too. I sometimes got a little frustrated with Smith's decorousness and discretion, her refusal (or inability) to convey, or even much acknowledge, the enormously chaotic character of the historical moment she's writing about. But that's also what makes the story so sweet. It's not a cultural history of 70's NYC. It's just kids.